NIGER DELTA KING
Dormac attended to the Niger Delta King vessel to assess its Fire Damage in the port of Lagos
The fire started in the lower engine room vicinity and it had moved upwards through the remainder of the engine room and then into the accommodation.
The damages caused by the fire can be categorised into the following:
Direct fire
Smoke and heat
Water
Humidity
Unseen voltage spikes
The above categories relate to steel, piping, trunking, electrical equipment, cabling , valves and accommodation panels and flooring.
GENERAL
During repairs the following works were carried out.
STRUCTURAL

Deck ,bulkheads and deckheads, replaced from engine room through to D deck.
Due to the amount of steel to be replaced, these areas were staggered so that an area would be complete before new area was started.
Weathertight door frames cut out and new frames welded in position.
Cable trays throughout the above area, was replaced.
Replacement of all brackets relating to ancillary equipment.
PIPING

Piping in the accommodation was removed and replaced.

Hydraulic piping for forward winches.
Refrigeration piping for cold rooms.
Hot and cold domestic water .
Black and grey water piping.

Engine room

Fresh water cooling
HV/AC chilled water
Fuel oil supply
Lube oil supply.
Service and control air
Tank sounding air
CO2 piping
Watermist piping
FIFI piping
ELECTRICAL

All burnt and damaged cables replace end to end.
Numerous distribution boards and starter boxes refurbished.
Light fiting ,sockets and other electrical items replaced.

ACCOMODATION

The entire accomodation was rebuilt from 1st deck to D deck.
Including furniture, galley and laundry equipment.

ELECTRONIC AND OEM

Bridge navigation equipment
CAT propulsion electronic controls
KONGSBERG DP2 system
KAWASAKI thruster controls
KIDDE GRAVINER oily mist detector
HOGLUNG VMS/PMS system
ZENITEL telephone system
AUTRONICA tank sounding
CONSILLIUM fire detection
Flexifog fire suppression.
ROLLS ROYCE steering system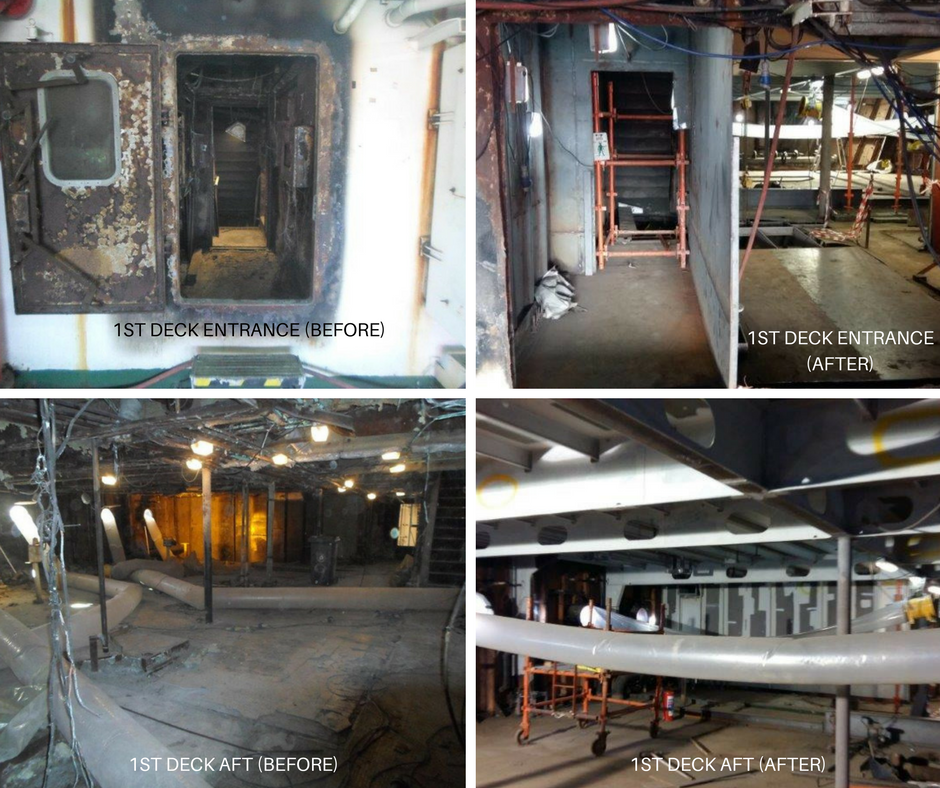 For more information about our various Ship Repairs contact us.